Domaine JAEGER-DEFAIX RULLY
Domaine JAEGER-DEFAIX RULLY
Wines
White
Rully 1er cru Les Cloux
Rully 1er cru Rabourcé
Rully 1er cru Mont-Palais
Red
Rully
Rully 1er cru Le Clos du Chapitre
Rully 1er cru Préaux
The estate
Domaine JAEGER-DEFAIX is located in Rully and is among the elite of the Côte Chalonnaise. It boasts 6.5 ha of vines including 4.5 ha of Rully located in premier cru areas, for the whites: 1er cru Mont-Palais, 1er cru Les Cloux and 1er cru Rabourcé; and for the reds: 1er cru Préaux and 1er cru Clos du Chapitre as a monopoly (plot entirely enclosed by a wall).
In 2005, Hélène Jaeger-Defaix took over the domaine that had belonged to her great-aunt, Henriette Niepce, thereby perpetuating the wine growing tradition of the Niepces, who have been wine growers since the 16th century. In the 1930s, her great-grandfather, Henri Niepce, a prominent figure in Rully, played an important role in obtaining Rully's AOC status. Her grandmother, Janine Niepce, was a famous photographer.
Hélène Jaeger-Defaix, an agricultural engineer and oenologist by training, works closely with her husband Didier Defaix, a wine producer in Chablis (Domaine Bernard Defaix).
The vineyards are ploughed, the vines organically grown and disbudded, and the grapes harvested by hand when they reach perfect maturity. Hélène Jaeger attaches great importance to understanding her different plots and she has built up her knowledge of them over the years. The result is "haute couture" red and white wines of remarkable precision and great aromatic purity.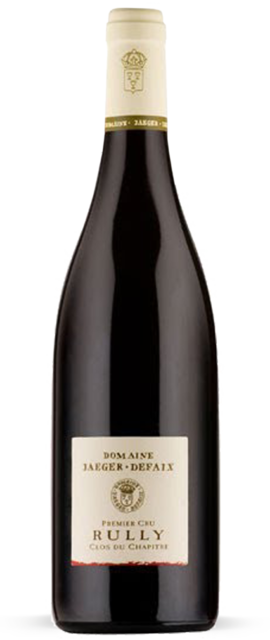 Domaine JAEGER-DEFAIX
RULLY