Domaine Vincent BOUZEREAU MEURSAULT
Domaine Vincent BOUZEREAU MEURSAULT
Wines
White
Bourgogne Aligoté
Bourgogne Chardonnay
Corton Grand Cru Clos des Fiètres
Meursault
Meursault Narvaux
Meursault 1er Cru Charmes
Meursault 1er Cru Poruzots
Meursault 1er Cru Les Charmes
Meursault 1er Cru Goutte d'Or
Puligny Montrachet
Red
Auxey Duresses 1er Cru
Pommard
The estate
Domaine "Vincent BOUZEREAU" is located in Meursault, the capital of Burgundy's "Grands Blancs" (fine white wines), in the Côte de Beaune. It works 10 hectares of vines in the following villages:
- Meursault - Volnay
- Auxey-Duresses - Pommard
- Monthelie - Beaune
- Puligny Montrachet
- Corton.
The Bouzereaus have been wine growers in Meursault for more than 10 generations and Vincent has naturally inherited the family know-how. Since 2012, and the division of the family estate, Vincent has been working his vineyards with his wife Aline, who is the sister of Laurent Delaunay. They have invested in a gentler winemaking process, which includes the use of gravity flow. The construction of beautiful "old-style" cellars with ribbed pillars has provided them with the space to allow their white wines to undergo a long, 18 months' ageing process.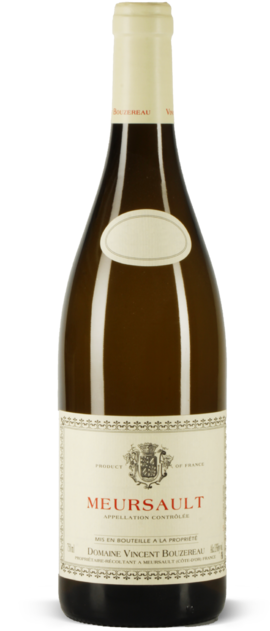 SPACE AREA
10 Ha
PRODUCTION
60000 bottles
Domaine Vincent BOUZEREAU
MEURSAULT