Domaine Bruno COLIN CHASSAGNE-MONTRACHET
Domaine Bruno COLIN CHASSAGNE-MONTRACHET
Wines
White
Batard Montrachet Grand Cru
Bourgogne Aligoté
Bourgogne Chardonnay
Chassagne Montrachet
Chassagne Montrachet 1er Cru Les Chaumées
Chassagne Montrachet 1er Cru La Boudriotte
Chassagne Montrachet 1er Cru La Maltroie
Chassagne Montrachet 1er Cru En Remilly
Chassagne Montrachet 1er Cru Morgeot
Chassagne Montrachet 1er Cru Les Vergers
Puligny Montrachet 1er Cru La Truffière
Red
Bourgogne Pinot Noir
Chassagne Montrachet Vieilles Vignes
Chassagne Montrachet 1er Cru La Maltroie
Maranges 1er Cru La Fussière
Santenay Vieilles Vignes
Santenay 1er Cru Les Gravières
The estate
Domaine Bruno Colin produces wines from the most prestigious vineyards of the Côte de Beaune, handed down over the generations. Its wines are an invitation to enjoyment, conviviality, emotion and passion. After completing his technical sales training at the Lycée Viticole in Beaune, Bruno Colin joined his parents and brother at the Michel COLIN-DELEGER family domaine in 1993.
In 2003, by mutual agreement, the family domaine was split into three separate entities: Domaine Michel COLIN-DELEGER, Domaine Philippe COLIN and Domaine Bruno COLIN.
Bruno made his first vintage in 2004, proud and thrilled to be working the family's vines in the most prestigious appellations of the Côte de Beaune. The domaine now covers 9 hectares, spread over the communes of Chassagne-Montrachet, Puligny-Montrachet, Saint-Aubin , Santenay and Dezize-les-Maranges. With over 19 appellations, including 8 white Premiers Crus in the Chassagne-Montrachet commune, Bruno strives to bring out the typical character of each of his terroirs, located so close to one other and yet so very different.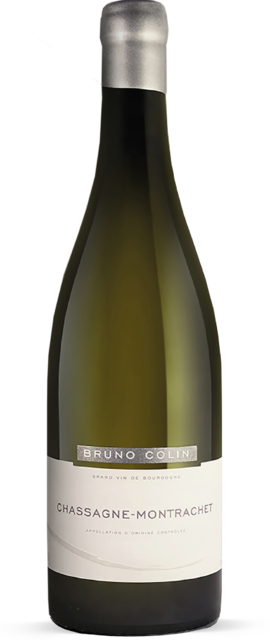 SPACE AREA
9 Ha
PRODUCTION
75000 bottles
Domaine Bruno COLIN
CHASSAGNE-MONTRACHET