Domaine Jean CHARTRON PULIGNY-MONTRACHET
Domaine Jean CHARTRON PULIGNY-MONTRACHET
Wines
White
Batard Montrachet Grand Cru
Bourgogne Chardonnay
Bourgogne Chardonnay Clos de la Combe
Bourgogne Hautes Côtes de Beaune En Bois Guillemain
Chassagne Montrachet Les Benoîtes
Chassagne Montrachet 1er Cru Caillerets
Chevalier Montrachet Grand Cu Clos des Chevaliers Monopole
Corton Charlemagne Grand Cru
Crémant de Bourgogne Blanc de Blanc Brut
Meursault Les Pierres
Montrachet Grand Cru
Pernand Vergelesses Les Belles Filles
Puligny Montrachet
Puligny Montrachet 1er Cru Clos de la Pucelle Monopole
Puligny Montrachet 1er Cru Folatières
Rully Montmorin
Saint-Aubin 1er Cru Perrières
Saint-Aubin 1er Cru Les Murgers des Dents de Chien
Santenay Champs Perrier
Savigny-Lès-Beaune Les Pimentiers
Red
Bourgogne Pinot Noir Clos de la Combe
The estate
Domaine Jean CHARTRON is one of the oldest wine estates in Puligny-Montrachet and has long been one of the top producers of white wine from "Bourgogne".
Founded in 1859, Domaine Jean CHARTRON has seen five generations of wine growers, all of them keen to develop the estate and ensure its prosperity.
In 1995, Jean-Michel CHARTRON, the fifth generation, started working at the estate with the mission of developing the export business and his father, Jean-René, took a step back. Anne-Laure, the older sister, returned to the estate to look after the vineyards and the sales side of the business.
Today, the estate comprises of 14 hectares of vines in Puligny-Montrachet and the neighbouring municipalities, most of the vineyard being classified as Premiers Crus and Grands Crus. Since 1917, the estate has had monopoly vineyard parcels in three of these appellations: Puligny-Montrachet 1er Cru "Clos de la Pucelle", Puligny-Montrachet 1er Cru "Clos du Cailleret", Chevalier-Montrachet Grand Cru "Clos des Chevaliers".
The estate offers a selection of 22 appellations, logically dominated by the whites, which account for 90% of the production. The harvesting is carried out by hand and most of the vines are worked with non-certified organic growing methods.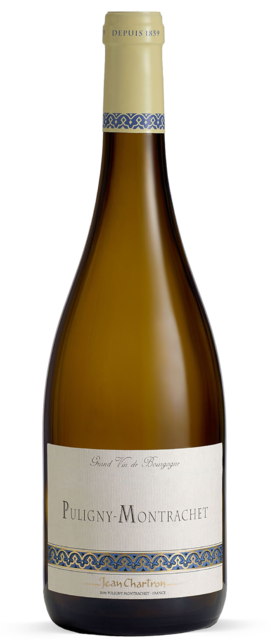 SPACE AREA
14 Ha
PRODUCTION
70000 bottles
Domaine Jean CHARTRON
PULIGNY-MONTRACHET