Domaine Jérôme FORNEROT SAINT-AUBIN
Domaine Jérôme FORNEROT SAINT-AUBIN
Wines
White
Santenay Les Charrons
Red
Maranges Le Chamery
Maranges
Santenay Sous la Roche
Santenay Charmes
The estate
Domaine Fornerot has been present in Saint-Aubin in the Côte de Beaune for 500 years. Jérôme took charge of the family estate with 7 hectares of vineyards in 2004. He works the vines in the Santenay (villages and 1er Cru), Maranges and Bourgogne appellations and sells the Saint-Aubin and Puligny-Montrachet (villages and 1er Cru) appellations.
The vineyards are planted at 10,000 vines per hectare and traditionally grown with careful control of the yields. Thanks to the use of sustainable phytosanitary protection and the ploughing of the soil, the domaine is able to produce lovely grapes while respecting the environment. The harvesting is carried out by hand.
Traditional Burgundy vinification is used in order to draw out the finest quality from the grapes and preserve the typical character of the terroirs. The wines are aged in oak barrels (11 months for the whites, 15 months for the reds) and then bottled on the domaine. The red wines are not filtered.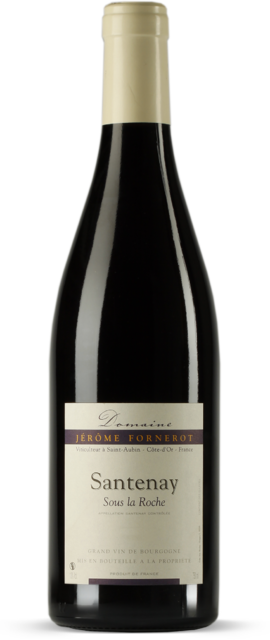 SPACE AREA
7 Ha
PRODUCTION
25000 bottles
Domaine Jérôme FORNEROT
SAINT-AUBIN